Help with the £Pounds you need!
I would like to borrow
£
For how long?
months
Representative 49.9% APR.
Representative example: Amount of credit: £750 for 12 months at £77.29 per month.
Total amount repayable is £927.48.
Interest charged is £177.48, interest rate 49.9% pa (variable).
Rates from 11.8% APR to 1575% APR – your Free*, No obligation quote and APR will be based on your personal circumstances, and Finance is subject to availability and status. Authorised and regulated by the Financial Conduct Authority.
We are a credit broker and not a lender.
Free, No Obligation Quote
Small Loans when you need it most
Sometimes it can seem as though we spend are whole lives in financial subservience to our employer. Living from pay check to pay check, there is often little if any money spare at the end of the month, and what is left usually isn't around for long.
With this way of life it is small wonder that most people have a negative mentality towards money. If only I could afford it? Not a another bill! I'll never get to go on holiday…They say that money doesn't buy happiness but whilst this saying is very true, the fact remains that money certainly helps tackle your daily woes.
Money struggles are a very real thing and can befall even the most money conscious among us. Sometimes there just isn't enough in the budget to cover all the out goings, especially those that creep up on us unexpectedly.
Your Budgeting
Any number of things can affect the way our money flows in and out of our lives – but the good news is you don't have to be bereft life's little luxuries if your in a pinch. 
If money is going to be tight one month or you need to free up some of the cash you have on hand for a few weeks, then you might find getting by that bit easier with a small loan.
Small loans are great, not only for those yearly expenses such as holidays, Christmas and getting the kids new school uniforms, but for helping out with the day to day budgeting too.
If you need new car tires or are looking to pay off the remaining portion of an outstanding credit card debt, then small loans might just be what you need.
Whats the difference from other Loans
Unlike personal loans which offer larger sums for longer periods (often years), small loans are designed for shorter repayment schedule and is often easier to repay.
 And the great thing is, by committing to say a three month short term loans or cash loans repayment plan, you can spread the cost of repayments to better suit your budget, rather than having to struggle.
These smaller loans or payday loans are often easier to repay in one fell swoop too, which is great if you know you are only going to be short for say a month because of an unexpected bill with quick loans.
The really nice thing about small loans and cash loans though is that it doesn't have to put you in long term debt, and can even help out your future finances, even after you have paid it off. 
After all, repayments of loans and credit cards (or lack of) have a direct impact on your credit score and by borrowing payday loans direct lenders and then paying it back, you can improve yours even if it's a bad credit loans.
This is particularly helpful when it comes to seeking larger borrowing quick cash online, such as car finance or a mortgage.  
In short, borrowing a smaller and little loans now could open up more opportunities to bigger lending in the future, both within your personal finances and also, potentially, in the business world. And that's a solid investment.
Always remember that late repayment can cause you serious money problems. For help, go to Money Helper
Excellent service. The application was processed immediately... like 50 seconds and found me a loan. Thank you... I would recommend Pounds4u.com when in need of assistance....​
Great response to my application, quick and easy straightforward process, great service all the way.
These are great i only took a £200 loan same amount each month and txt and emailed when payment was due cant fault them 😊
How Cash Loans Online Work?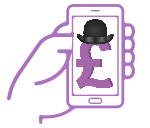 Our High-Tech will process your application and will look to locate the right loan for you and your circumstances.

Once you are approved, you will be directed to your lender to finish the process.
To be eligible to get a loan, you need to:
Be 18 years of age or older
I
Have a valid UK bank account, working phone and email
I

Have a regular source of income (min £700 per month)