Help with the £Pounds you need!
I would like to borrow
£
For how long?
months
Representative 49.9% APR.
Representative example: Amount of credit: £750 for 12 months at £77.29 per month.
Total amount repayable is £927.48.
Interest charged is £177.48, interest rate 49.9% pa (variable).
Rates from 11.8% APR to 1575% APR – your Free*, No obligation quote and APR will be based on your personal circumstances, and Finance is subject to availability and status. Authorised and regulated by the Financial Conduct Authority.
We are a credit broker and not a lender.
Free, No Obligation Quote
What are Personal Loans? 
Work life balance can be hard enough at the best of times and when your committing to the weekly grindstone its small wonder that you might be one of the thousands of Britons living for the weekend. 
It's a chance to put your feet up, relax, maybe go for a stroll or enjoy the sun and a family barbecue.
However, it's not always so idealistic when your home isn't your haven. Second hand furnishings, rickety and falling to bits can have a bit of a dampener on one's ability to kick back and relax – especially when repairs and decorating come with such a high price tag. 
The same can also be said of the garden, as, after all, how can you enjoy a delightful barbecue if you have no barbecue or patio furnishings to speak off?
And whilst home renovations and new throw pillows sound like a laughable luxury if you're on a tighter budget then you'd like to be, or if your savings are lacklustre to say the least, it doesn't have to be the niggling headache that it often is. 
Many of us despair to watch renovation documentaries or even let friends come to our houses because, frankly, we aren't keeping up with the Joneses. But it doesn't have to be that way.
With a personal loan, you can have your cake and eat it. With offers being made for many reasons; such as financing a new car, celebrations and wedding planning and yes, giving the house and garden a much-needed face lift!
What to do before apply for personal loans
But before you apply for short term loans, payday loans or Personal Loans however, here are a few things to consider;
First and foremost – can you afford a cash loan? Before even getting excited and booking a week of work for your own extreme home makeover renovations, consider these factors. 
How much would you ideally need to borrow versus how much you can realistically, reliably and comfortably afford to repay. Now grab a piece of paper and work those figures out.
For example, your budget for your personal projects will need to consider all aspects of it, so it makes sense to sit down and write up a step by step goal list, including all the materials you will need, delivery charges and all those niggling, unexpected things like replacing your paintbrushes and wallpaper scrapers.
Next do the same things but with your monthly budget, including all your income (for most people this is usually just a job, but can include investments and personal businesses) and all your out goings (rent, bills, fuel, food etc.) plus a little buffer for those unexpected expenses (washing machine repairs and so forth).
Now compare those two figures to see how much money you have left over in your monthly budget.
And finally, go to www.Pounds4u.com and make sure that the amount that you need to borrow for your project and divide by how many months you would like to borrow for (this is usually in years) fits well within the amount remaining in your personal budget.
 Whilst this will mean you have overshot vastly on the probable interest you will pay; it does mean that you can ensure a comfortable repayment plan that will keep you up to date and out of debt at all times for that personal loan you need.
Always remember that late repayment can cause you serious money problems. For help, go to Money Helper
How Cash Loans Online Work?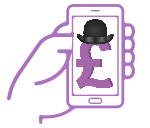 Our High-Tech will process your application and will look to locate the right loan for you and your circumstances.

Once you are approved, you will be directed to your lender to finish the process.
To be eligible to get a loan, you need to:
Be 18 years of age or older
I
Have a valid UK bank account, working phone and email
I

Have a regular source of income (min £700 per month)