Help with the £Pounds you need!
I would like to borrow
£
For how long?
months
Representative 49.9% APR.
Representative example: Amount of credit: £750 for 12 months at £77.29 per month.
Total amount repayable is £927.48.
Interest charged is £177.48, interest rate 49.9% pa (variable).
Rates from 11.8% APR to 1575% APR – your Free*, No obligation quote and APR will be based on your personal circumstances, and Finance is subject to availability and status. Authorised and regulated by the Financial Conduct Authority.
We are a credit broker and not a lender.
Free, No Obligation Quote
When Should Cash Loans be Used?
We have all seen the television commercials for payday loans such as sunny, MrLender, Drafty, Satsuma Loans, QuckQuid and Lending stream. If, like many people, you are also confused about how they can help you with cash loans, payday loans what they are and how they are intended to be used to borrow money, this article explains all you need to know.
Cash loans, Payday loans, short-term loans are unsecured loans for small amounts that are offered to people in need of emergency cash for one-off or unexpected expenses and are intended to be repaid within 3 to 6 months.
Typical cash loan has a term about between 3 months to 1 year. However, some lenders offer longer and shorter terms. Payday loans also known as cash loans amounts range from £100 to £1,000, although lenders can lend more.
Payday cash loans are often taken out to cover emergency expenses such as:
Domestic appliance repairs
Medical and dental bills
Unexpected travel costs
Funeral expenses
Car repairs
Home repairs
Payday cash loans can be helpful to cover emergency costs, but can be relatively expensive and are for last resort. You should not use payday cash loans frequently as they can be expensive in the long-term compared to normal bank loans.
You must ensure you repay the loan on the due date to avoid paying additional fees. These can greatly increase the amount you will have to repay. Furthermore, your credit score will be harmed if you don't repay your loan on time. It would be unwise to use a payday cash loan for any of the following purposes:
To service existing debt:
For long-term purposes:
Other options to using a payday cash loan
As said above, payday cash loans are intended to cover a short-term emergency and are very expensive in the long-term. Here are some of the options if you need a longer-term loan:
1. Personal loans:
These are ideal if you want to borrow more than £1,000 over a longer-term, and you have a good credit rating. However, lending conditions are usually firmer and you may need a guarantor for the loan. Furthermore, because it usually takes several days arrange a personal loan, it is not suitable for paying emergency expenses. On the plus side, the interest rate is a lot lower.
2. Borrowing from friends and family:
This option is ideal when you only need to borrow a small amount. If you need a larger loan immediately, your friends and family may not have immediate access to that amount of cash. Family relationships can be damaged, and friendships lost if the debt is not repaid in full by the promised date.
3. Salary advance:
This what it says on the side of the tin! You are taking a cash loan advance on your next salary, which means in the next payday you will have less money than normal to support you to the following month.
Not all employers offer this, as it is at their discretion. The ones that do, will limit the amount you can have advanced and often only permit one such advance a year or restrict it to a holiday season. A salary advance may be a more attractive way to cover emergency expenses than a Payday cash loan because there is no interest to repay, but there is no guarantee that an advance will be made.
4. Borrowing from your pension fund:
Whereas it may be possible to draw down cash from your pension fund, the process is very complicated as well at time consuming. Which makes this method unsuitable to cover emergency expenses.
The real cost of taking money out from your pension fund is that you will have much less to retire on. Because of the way in which pension investments work, this cost can be far greater than the cost of a payday loan.
5. Credit cards:
If you have one and enough credit available, you can use your credit card to cover an emergency expense. If you have insufficient credit available, or do not have a credit card, this option is not available. However, even if this option is open to you, many credit cards charge very high interest rates on cash loan advances especially if not repaid in full by the next payment date. These will be even higher if you miss a payment or go over your credit limit. A payday cash loan may be a more cost-effective solution to raising short-term emergency funds.
How Cash Loans Online Work?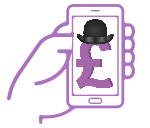 Our High-Tech will process your application and will look to locate the right loan for you and your circumstances.

Once you are approved, you will be directed to your lender to finish the process.
To be eligible to get a loan, you need to:
Be 18 years of age or older
I
Have a valid UK bank account, working phone and email
I

Have a regular source of income (min £700 per month)