Help with the £Pounds you need!
I would like to borrow
£
For how long?
months
Representative 49.9% APR.
Representative example: Amount of credit: £750 for 12 months at £77.29 per month.
Total amount repayable is £927.48.
Interest charged is £177.48, interest rate 49.9% pa (variable).
Rates from 11.8% APR to 1575% APR – your Free*, No obligation quote and APR will be based on your personal circumstances, and Finance is subject to availability and status. Authorised and regulated by the Financial Conduct Authority.
We are a credit broker and not a lender.
Free, No Obligation Quote
Quick Loans when you get stuck for cash
Wouldn't it be great if you could just get a quick payday loan?  When you needed a cash loan.
Well, whilst there are no such things a free money, there are ways of getting  Fast money that you need today into your bank account in a speedy fashion. Quick loans might sound too good to be true, but they do exist.
With the increased demand of loans direct lenders, companies and banks have realised the need to make instant loan decisions when it comes to their clients finances. As they say, the early bird gets the worm, and in the competitive market of Short term loans lending, this phrase certainly rings true.
The need for a quick loan
Due to personal needs, such as financial crisis, income short falls, lay-offs and long-term illness etc. many of us can often find ourselves stuck for cash and needing to know quickly whether or not a lender is willing to offer us terms.
With the internet bringing us comparison sites and information at our finger tips, loan direct lenders are eager to not only out bid their competition but secure their clients as well. 
After all, they can't make a profit if they spent too long twiddling their thumbs as they um and ah over whether or not to loan you the quick cash you need.
This has resulted in easier opportunities for those seeking to borrow money on the short term loan. Whilst quick loans are usually of smaller amounts and higher interest rates but capped and regulated by the FCA, the competitive markets means that these factors are now more in the clients favour than ever before. 
It also means that positive decisions can even be found for those clients with less than desirable credit scores with no credit check loans.
Online short term loans
And whilst all of this might sound too good to be true, it's about to get even better. Many lenders are able to process your quick loan request as quickly as the first twenty four hours after your request and can even have your money in your bank account that same day.
It is depending on your bank account and your bank! And with the fortuitous opportunities of the internet and online loans, you can easily see interest rates, amounts to borrow and compare for the most conservative offer to suit your budget.
Helping your credit.
And the good news is, are you commit to repayments at a higher interest level, you credit score will also improve as your quick loan aids in your current situations. 
This means that, should you find yourself in a position where you need or even want to borrow money again, you could be offered better terms, such as lower APR and larger initial payouts, loan repayment holidays, and even multiple loans if the occasion calls for it. 
These perks will also extent to other forms of borrowing, including personal loans, mortgages, credit cards and buy now, pay later programs.
No longer do you have to worry about not having enough money until payday or how you are going to make rent after a week off sick. 
No more is the threat of an MOT bill or the kids growing out of their school uniform going to be hanging over your head like the monetary swords of Damocles.  
How Cash Loans Online Work?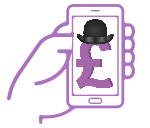 Our High-Tech will process your application and will look to locate the right loan for you and your circumstances.

Once you are approved, you will be directed to your lender to finish the process.
To be eligible to get a loan, you need to:
Be 18 years of age or older
I
Have a valid UK bank account, working phone and email
I

Have a regular source of income (min £700 per month)