Help with the £Pounds you need!
I would like to borrow
£
For how long?
months
Representative 49.9% APR.
Representative example: Amount of credit: £750 for 12 months at £77.29 per month.
Total amount repayable is £927.48.
Interest charged is £177.48, interest rate 49.9% pa (variable).
Rates from 11.8% APR to 1575% APR – your Free, No obligation quote and APR will be based on your personal circumstances, and Finance is subject to availability and status. Authorised and regulated by the Financial Conduct Authority.
We are regulated and authorised credit broker and not a lender.
Free, No Obligation Quote
Borrowing Quick Cash Online
In this article, we explain what cash loans are, compare their advantages and disadvantages with off line loans, and show you how to borrow quick cash online.
Put simply, a cash loan is an unsecured short-term loan for a small amount of money that is borrowed for a short period of time to cover emergency expenses, such a repairing or replacing your washing machine. These loans are popular with people who do not have a property or car that can be used as security for the repayment of the money borrowed. Although different cash loan providers have different terms and conditions, usually all you need to get a cash loan is a pay slip or other proof of income that shows you are able to repay the money you have borrowed.
Off line Loans:
There are three sources of off line loans. They are:
Friends and family
Banks
Secondary lenders such as pawn brokers and "high street" money lenders.
The main advantage of off line loans for emergency purposes is that the annual percentage rate of interest (APR) charged can be much lower than for short-term loans. The actual APR will depend on who is lending you the money. Borrowing from friends and family may not incur any interest charges. Borrowing from a secondary lender will incur a high APR.
Off line loans have many disadvantages compared to borrowing quick cash online. These include:
Borrowing from your friends and family:
Borrowing from your friends and family can be the quickest and cheapest way of raising a small amount of short-term cash to cover an emergency. Borrowing more than £100 until your next payday is probably unwise and you may not want your "business" spread around your family or shared among your friends.
Your friends and family may be reluctant to lend you money, especially if you already owe them money or have not repaid a previous loan when promised. Defaulting on a loan from friends and family can strain relationships and has lost friendships.
High street banks:
High street banks are not in the business of making unsecured short-term loans for small amounts of money. Nor are they likely to be willing to increase your overdraft facility, even until your next payday.
If you get a personal loan from your bank it can take days or even weeks to arrange. That makes them unsuitable for covering short-term need for extra cash to see you through to your next payday.
Banks will often not lend less than £1,000, which is more than you are likely to need to cover your emergency expense. Nor are they likely to lend you the money for less than a year. Not only does that mean you will have to borrow more money than you need, a personal loan can also turn a small cash emergency into a long-term financial commitment.
Secondary lenders:
You must visit the secondary lender in person to make a loan application. Each lender has its own requirements, so it can take more than a day and often a few days for your loan application to be considered.
Although secondary lenders provide unsecured loans, many require a guarantor. That means you may have to visit them two or three times to complete your application, which is not always convenient especially if you live out of town.
Borrowing from a secondary lender is expensive. These high street loans usually attract a higher rate of interest than most short-term loans.
It is not unusual for secondary lenders to require you to make payment at their place of business, so you will incur additional transport costs and increased inconvenience.
You will have to pledge an article of sufficient value if you borrow money from a pawn broker. The pawn broker can sell that article at any time before you repay the loan. This is not ideal, especially if the only thing you can pawn is a family heirloom.
Borrowing Quick Cash Online:
If borrowing from your friends and family is not a realistic option, and you do not want to use a high street secondary lender, online cash loans are a great option.
The advantages of borrowing quick cash online include:
Online cash loans are the best option for you when you need money immediately;
No need to visit the lender's place of business. Your application is made online;
You get a quick decision on your application; and
If your application is approved, the money can be transferred to your bank account in as little as 10 minutes.
How Cash Loans Online Work?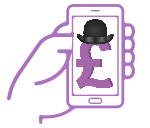 Our High-Tech will process your application and will look to locate the right loan for you and your circumstances.

Once you are approved, you will be directed to your special lender to finish the process.
Our mission
Our mission is to help and protect all consumers when they are in need of a Short Term Loan online in the UK.
We offer a state of the art quick technological solution to help you getting a short term loan online, easily, securely, and Totally Free with no obligation and no commission.
Innovation
Our advanced state of the art technology allows us to get all the lenders* in to our platform making the customer in the front therefore, the top lenders compete to lend you the money you need.
Transparent service
Pounds4U provide fully transparent service to find you the best** responsible and trusted lender with the cheapest interest rate (APR) possible and terms according to your own special circumstances.
Availability
It doesn't matter if you have bad credit or poor credit, at Pounds4U.com all credit types are considered. We will use our innovative technology to find you a suitable solution quickly with an user friendly easy form.
Pounds4U is fully registered with the ICO and regulated by the UK 
Financial Conduct Authority 
(FCA).
* Carefully Selected and FCA Approved panel of lenders.
** According to the amount you want to borrow, and your ability to repay the loan among other factors.
To be eligible to get a loan, you need to:
Be 18 years of age or older
I
Have a valid UK bank account, working phone and email
I

Have a regular source of income (min £700 per month)