Help with the £Pounds you need!
I would like to borrow
£
For how long?
months
Representative 49.9% APR.
Representative example: Amount of credit: £750 for 12 months at £77.29 per month.
Total amount repayable is £927.48.
Interest charged is £177.48, interest rate 49.9% pa (variable).
Rates from 11.8% APR to 1575% APR – your Free*, No obligation quote and APR will be based on your personal circumstances, and Finance is subject to availability and status. Authorised and regulated by the Financial Conduct Authority.
We are a credit broker and not a lender.
Free, No Obligation Quote
Likely Loans Review
Likely loans is a UK direct lender specialising in short term loans for people with low credit history, who are cannot get credit from the banks.
Likely loans opened in mid 2014 and it is a subsidiary of Oakbrook Finance a Nottingham based company, which focuses on conventional loans for clients with higher credit ratings.
If you are in need for a payday loan, and you need loans for bad credit Likely Loans might be the right option to try to get approved.
Unlike numerous various other payday loans direct lenders for individuals with reduced credit scores, Likely Loans does not require a guarantor like lenders such as Amigo Loans. A guarantor is a friend or relative with much better credit history, who accepts handle obligation for the loan if you have difficulty paying it back.
This indicates that if you do not have a somebody who can be your guarantor, you can still be able to borrow money — although your rate of interest will possibly be higher than with many guarantor loans.
Features of Likely Loans?
Loans from ₤500 up to ₤5,000.
Loans from One to Three years.
Clients can use the loan to help consolidate their debt, car repairs, home improvements, emergency situations and other.
The loan is an unsecured personal loan, it does not require your home, car, or other assets as collateral.
There are no fees, so you do not need to pay anything up front to organize the loan.
It has a representative APR of 59.9%– that is the rate of interest that Likely Loans expects most of its customers to pay.
It is a fixed rate loan, so you do not need to worry for any increase in the cost during the life loan.
There is no penalty for overpayment if you want to settle your loan early.
You can pick which day of the month you make your repayments– as well as change that date to a later date if you want.
When you have made an application for a loan, if you are approved you can get the money into your account the next working day.
What criteria is needed to apply for Likely Loans?
You have to be 18 or older.
You must be a UK resident.
No bankruptcy in the last 12 months.
Must have a Bank or building society account.
You need to have some credit history, and Earnings — such as a salary or a pension.
FAQ Easily Answered regarding Likely Loans
Am I qualified for a Likely Loan?
Even more people are eligible for a Likely Loans than those from many other suppliers like QuickQuid, Lending stream, Vanquis, Tesco loans, Wonga or Amigo Loans, merely because it focuses on people who need loans for bad credit.
What is the overall cost?
Likely Loans has a representative APR of 59.9%. The rate of interest is daily computed, and its added to the total expense monthly.
This means that if you borrow ₤ 2,000 for 24 months (2 Years), the total sum you'll need to repay will be ₤ 3,144.48, with a monthly payment of ₤ 131.02.
Exactly how do I make my payments?
The most effective way to make your payments is via Direct Debit– that way, you'll never ever need to worry about failing to remember to pay. Yet if you would certainly rather not use Direct Debit, you can additionally pay over the phone or online.
Can I pay the loan back early?
Likely Loans do not have any charges for overpayment– so if you have the money to repay your loan early, you can end up saving a lot of money on interest charges.
Can I top up my loan?
It could be possible to top up a Likely Loan– but they won't be able to give you a bigger loan if you have not yet settled your existing obligation or not been able to make the final payments.
Please be aware that a loan is a considerable commitment. You should be sincere on your application regarding whether you can manage the repayments.
Bad credit loans for individuals with reduced credit scores are usually more expensive and carry a high level of interest, and also if you end up unable to fulfil your payments, your credit history will certainly be affected as well as you may fall under significant financial debt. Late repayment can cause serious money problems, for help please visit the www.moneyhelper.org.uk
Likely Loans Summery
Likely Loans are set as a lending institution that can supply loans between ₤500 to ₤5,000 to people with a bad credit rating. A major marketing aspect of Likely Loans is that they do not need a guarantor, which is rare among poor credit rating and loans for bad credit lending institutions. Taking this into account, their Representative APR of 59.9% can be considered particularly good rate.
Their on-line application is relatively quick to finish and clients can get a decision on their loan application quickly. Although their application process is fast, for approved loans the funds will be sent the following working day, so if you are looking for real same day emergency cash might be worth looking around.
Always remember that late repayment can cause you serious money problems. For help, go to Money Helper
Excellent service. The application was processed immediately... like 50 seconds and found me a loan. Thank you... I would recommend Pounds4u.com when in need of assistance....​
Great response to my application, quick and easy straightforward process, great service all the way.
These are great i only took a £200 loan same amount each month and txt and emailed when payment was due cant fault them 😊
How Cash Loans Online Work?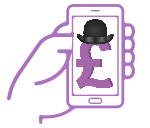 Our High-Tech will process your application and will look to locate the right loan for you and your circumstances.

Once you are approved, you will be directed to your lender to finish the process.
To be eligible to get a loan, you need to:
Be 18 years of age or older
I
Have a valid UK bank account, working phone and email
I

Have a regular source of income (min £700 per month)