Help with the £Pounds you need!
I would like to borrow
£
For how long?
months
Representative 49.9% APR.
Representative example: Amount of credit: £750 for 12 months at £77.29 per month.
Total amount repayable is £927.48.
Interest charged is £177.48, interest rate 49.9% pa (variable).
Rates from 11.8% APR to 1575% APR – your Free*, No obligation quote and APR will be based on your personal circumstances, and Finance is subject to availability and status. Authorised and regulated by the Financial Conduct Authority.
We are a credit broker and not a lender.
Free, No Obligation Quote
Amigo Loans Review
Amigo Loans is one of the most known brands in UK and it is actually the UK's leading service provider for guarantor loan products.
Amigo loans was established in 2005 by the name FLM Loans, it rebranded to its current Amigo Loans name in mid 2012.
Amigo Loans become a house hold name after it began advertising on TV and other media with its known funny adverts.
What we Need to know about Amigo Loans :
Loans from £1,000 to £10,000
Loans from 12months to 5 years (60 Months)
APR 49.9% Representative
No Fees
No fees to Pay off early to reduce interest costs
CCJs & Defaults OK
Quick Loans Payouts
Nice way for Credit Building your score
Good for Bad Credit Loans
Supportive and good Customer reviews
Representative Example: Borrow £3000 for 36 months. Repay £146.37 each month. Total interest of £2269.32. Total repayable £5269.32. Representative APR 49.9% (variable).

What the else Amigo loans are offering?
Amigo Loans also is offering its consumers an online account administration facility, where the lenders have the ability to make their payments and also the ability to manage their account.
Careful with Guarantor loans
As with all other guarantor lenders, Amigo Loans come with typically the standard guarantor loan products warning. Guarantor loans are not for everyone but it is certainly an answer suited to individuals with a really specific set of circumstances.
But if a client believes they will not be able to make their repayments, they will get their friends or their family member into trouble as they will need to pick up your bill and debt.
In Summary
Amigo Loans are a customer focused company; they offer top technology and market-leading facilities. They don't only operate within the guarantor loan products but also personal loan arena. In case you have bad credit and thinking about signing up to Amigo Loans, make sure the product of a guarantor loan fits your needs prior to apply.
 Always remember that late repayment can cause you serious money problems. For help, go to Money Helper
Excellent service. The application was processed immediately... like 50 seconds and found me a loan. Thank you... I would recommend Pounds4u.com when in need of assistance....​
Great response to my application, quick and easy straightforward process, great service all the way.
These are great i only took a £200 loan same amount each month and txt and emailed when payment was due cant fault them 😊
How Cash Loans Online Work?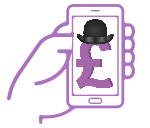 Our High-Tech will process your application and will look to locate the right loan for you and your circumstances.

Once you are approved, you will be directed to your special lender to finish the process.
To be eligible to get a loan, you need to:
Be 18 years of age or older
I
Have a valid UK bank account, working phone and email
I

Have a regular source of income (min £700 per month)